Monthly Archives:
January 2019
We're proud to announce the winners of our fiction writing contest! These stories focus on unique takes on space, space exploration, and space technology in the HQC Victorian setting.
Our congratulations to the winners!
Space Man's Anchor
By Neal Holtschulte
The Royal Space Navy destroyer Trafalgar is in a race to reach Lagrange five and hold the point against all foes. The Russians, seeking to extend their advantage over the Queen's space navy, have their own ships enroute. Second Lieutenant Leander Fitzpeter must see the mission through to completion, prevent outright war, and uncover the traitor among the Trafalgar's crew, all while facing his own personal demons.
Neal's blog can be found at https://hastewriting.wordpress.com/
He was recently published in volume 76, issue 2 of Amazing Stories: https://www.amazon.com/Amazing-Stories-Winter-2018-Issue-ebook/dp/B07L9HSWPG
Hearts & Bones
By K.M. Chavez
Miss Ella Shaw, one of the few women in London to receive a surgical license from the Royal College of Physicians, has now been stationed in an Earth-run hospital on Venus. She is part of a programme to bridge the gap between the medicine of Earth and of Venus. However, as she enters her first major surgery, she wonders if the horrors of gruesome Victorian-era medicine will haunt her no matter where the stars take her.
Caledon
By Brady Alexander
A misanthropic big game hunter goes to Venus on vacation.
A very different man returns to Earth.
Brady's has published in a number of venues:
The Thundering of Guns
By Chris Holden

Set in around 1880, Royal Navy Lieutenant Farrow is dispatched to the HMSS Thor, an experimental gun armed space cruiser as gunnery officer to prove an experimental concept that would enable space-going ships to effectively use conventional breech-loading guns in space combat.
The early tests seem to indicate that the concept works and that could put Britain well ahead in terms of space military technology. Until disaster strikes…
Chis has written stories for magazines and several technical articles. This is is first foray into VSF/steampunk. The story is inspired by the gun control room on the gun direction room at Languard Fort, Suffolk,
February 16 and 17 2019 9:00 AM to 8:00 PM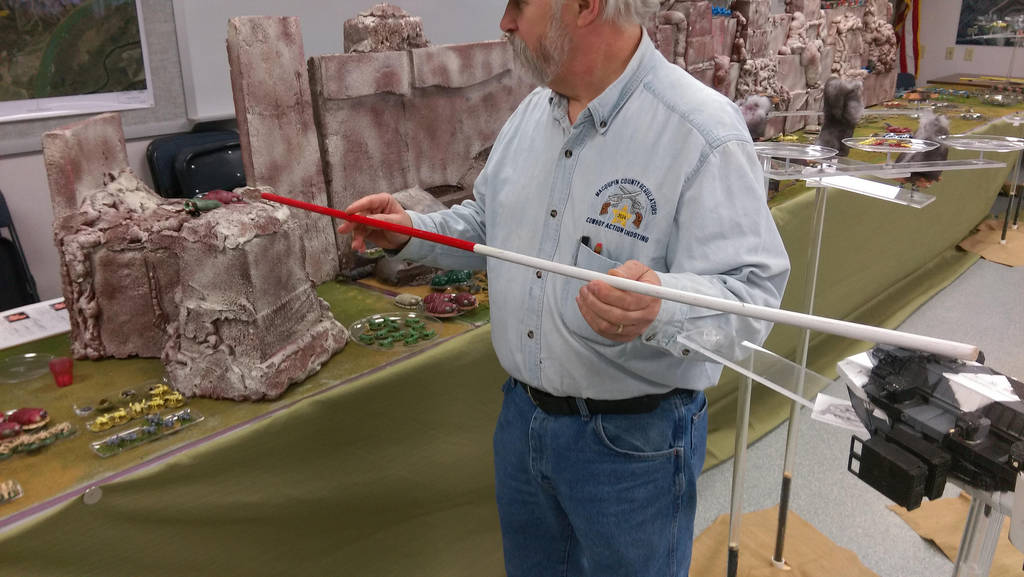 Weldon Spring Site Interpretive Center
7295 Highway 94 South, St. Charles, MO 63304
https://www.lm.doe.gov/Weldon/Interpretive_Center/
The Hive and the Flame will be ongoing throughout the event in one room
In the other room table space available to host miniatures or board games and to bring and show off your miniatures, models, and terrain!
ADMISSION IS FREE!
At the Department of Energy Weldon Spring Interpretive Center Weldon Spring Site Interpretive Center
(7295 Highway 94 South, St. Charles, MO 63304) we have reserved a meeting room for two days of the President's Day Weekend (Saturday February 16th-Sunday February 17th). To show off this space we are hosting a FREE two day mini-convention.
We are using the entire main room 30 X 30 space all weekend for a large game of The Hive and the Flame, which is an approved major variant of The Sword and the Flame. Allied human forces will attack an alien hive in Central America in 1900, using Victorian Science Fiction weapons and equipment. Everything will be provided and rules will be taught.
Due to the nature of the space there will be no dealers present.
In terms of the space itself: There is a coffee maker, microwave and nice bathrooms. It also has ample parking.
We have room for lots of players on Presidents' weekend so please spread the word widely. Everything except food is provided. Rules are modified Sword and the Flame. If you don't know them we will teach you!
For more information on the location see their web site link